~~~~~~~~~~~~~~~~~~~
Are you just a little neurotic when it comes to your cat? When your cat
 coughs up a hairball, do you call your vet immediately and demand an
appointment right away? Has it been ten years since your last
vacation because no pet sitter could ever care for your cat the way
 you can? Does your arm fall asleep because your cat has been sleeping
on it for the last two hours and you don't have the heart to wake
her up? Have you realized that cat hair is a food condiment? Do
you color-coordinate your clothing to match your cat's fur?
If you can say "Yes! Yes, that's me!" to any one of the above
questions, you're just the purrson we're looking for! The Neurotic
Cat Moms of the World is for those people who care more about
their cats than themselves....and aren't afraid to admit it.
Interested? Tell us in 50 words or less why you're a Neurotic
Cat Mom. We want to know what classifies you as being completely
obsessed with your favorite kitty. Just send us an email to join 
The Neurotic Cat Moms of the World. You'll receive this 
beautiful plaque to purroudly display on your web page. Your testimonial
may be posted on our Neurotic Cat Moms site for the world to see.
And you'll also be able to join The Neurotic Cat Moms of the World webring.
We're waiting to hear from you!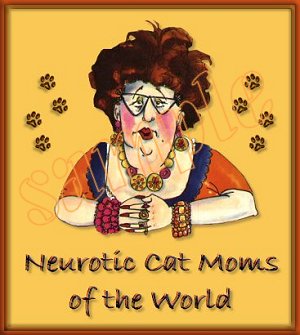 Email the Neurotic Cat Moms of the World
The Neurotic Cat Moms WebRing
Testimonials of Neurotic Cat Moms