Banshee's Purr of Approval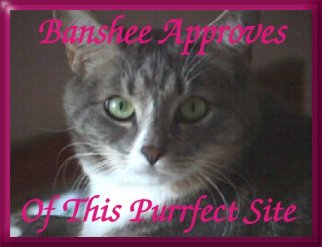 Banshee has created her own award for those Pawsitively Purrfect web pages. To receive Banshee's very special award, just send her an email . Tell her why you would like to have her award. And please remember the following guidelines:
1. Your site must be about pets...real live pets, preferably kitties, but she will accept other pets (sniff, sniff).
2. Your site should have content, not just links. And Banshee loves to look at pictures!
3. No pornography, please...let's keep it family-oriented.
4. No animal abuse or cruelty.
Just email Banshee and you're ready to go! Banshee and I will take a look at your Pawsitively Purrfect web page. Please link the award back to The RugCats' Rag at--
Please e-mail Banshee. She would love to hear from you!
OK, What's Next?